How to sell luxury flats in a cozy, stress-free and prestigious ambience located directly at the construction site? In a LoftCube.
Our barrier free concept and flexible loft sizes from 44 up to 85 sqm provide a full freedom of interior design.
Our modular interior walls and cabinet modules for rooms, kitchen and bathrooms allow quick installation on-site.
"The LoftCube was the right decision. 
Entering the 85sqm loft customers relax immediately and feel at home instantly. 
The ideal set-up for professional sales at our construction site."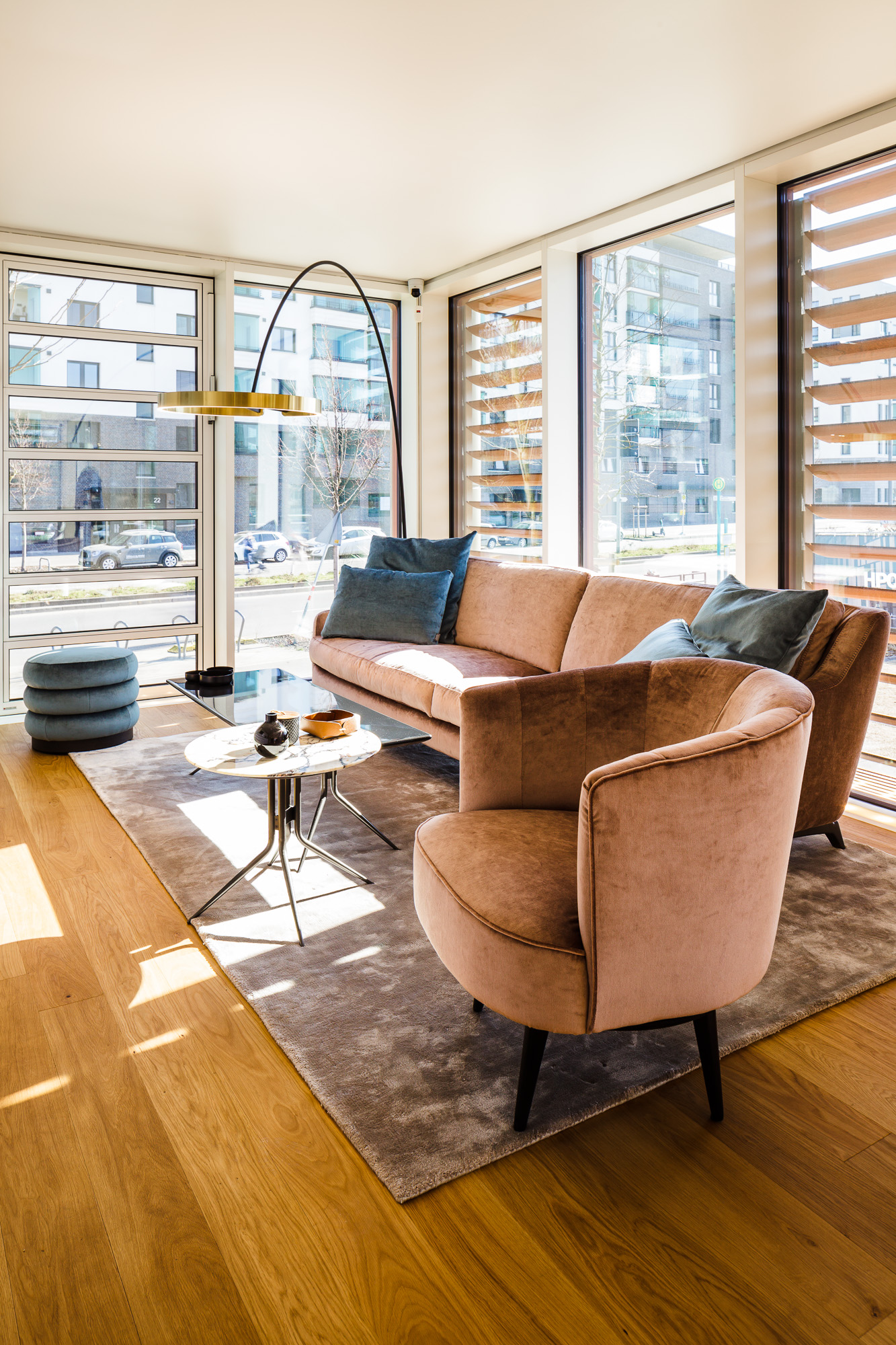 A very warm welcome. Clients can be offered a cappuccino or snacks prior to viewing the developers apartments that are available to purchase. The sideboard hides all kitchen utilities capable to provide a full service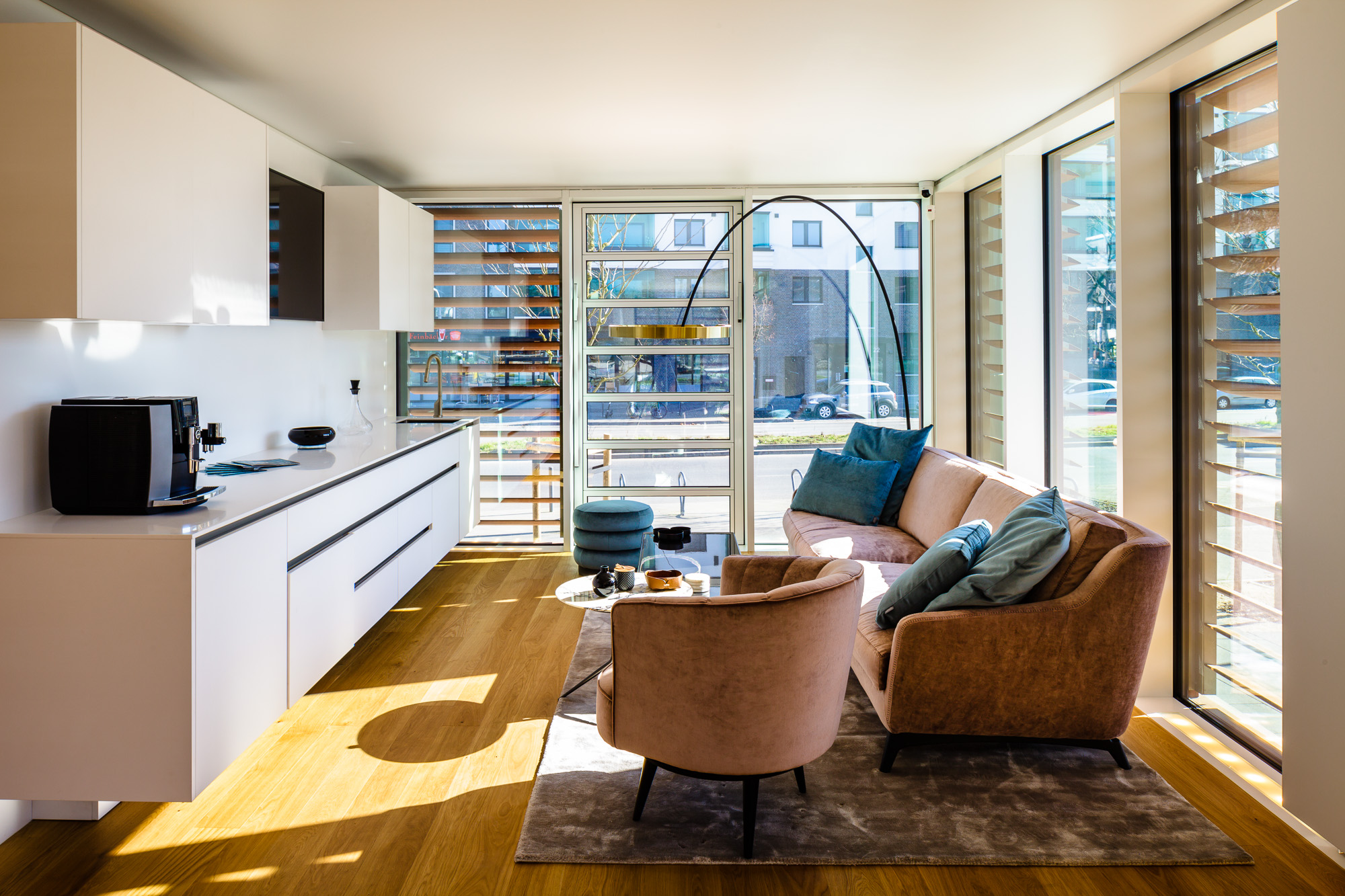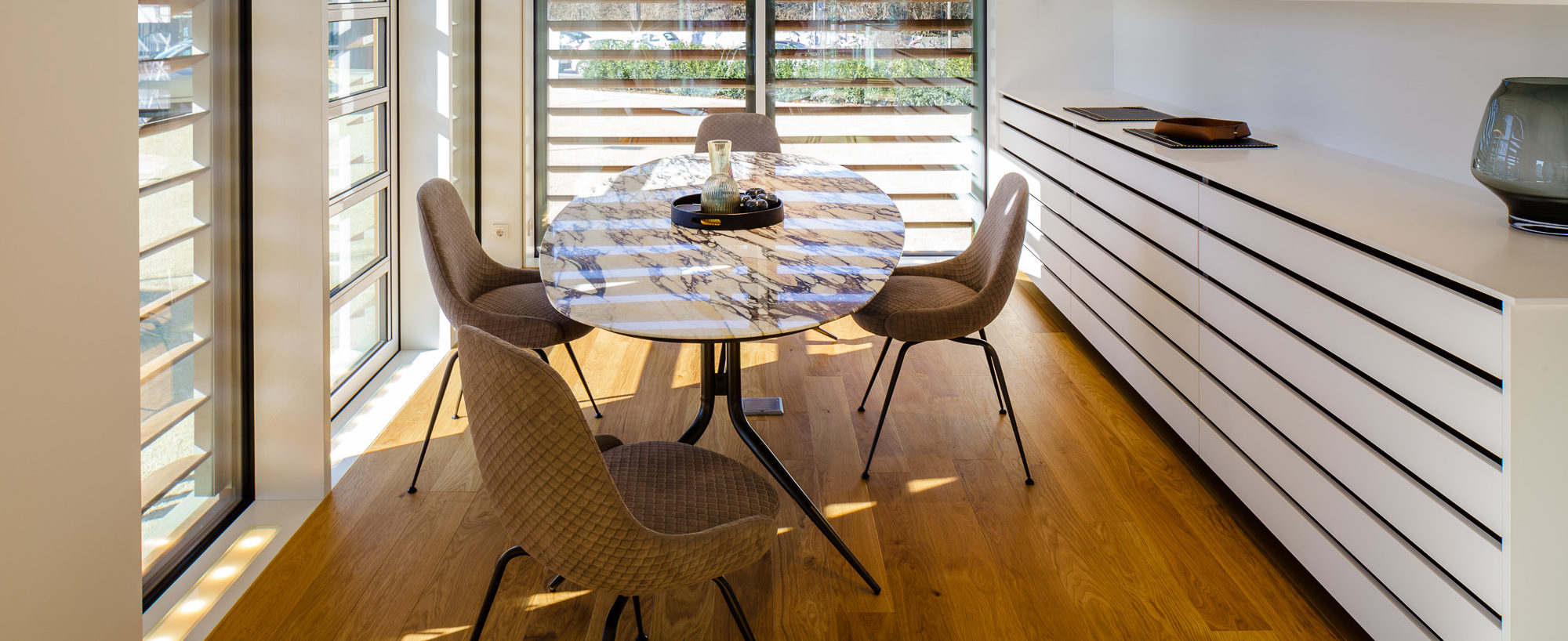 Centrally located there's the development model with all modern conveniences. Nearby, the presentation area including all types of samples.
A spacious and comfortable sales room adds to the client being put at ease during the sales meeting.
Our glass panes with 41db sound reduction ensures a pleasant and private atmosphere, which is key for a successful sales process and relaxed customers.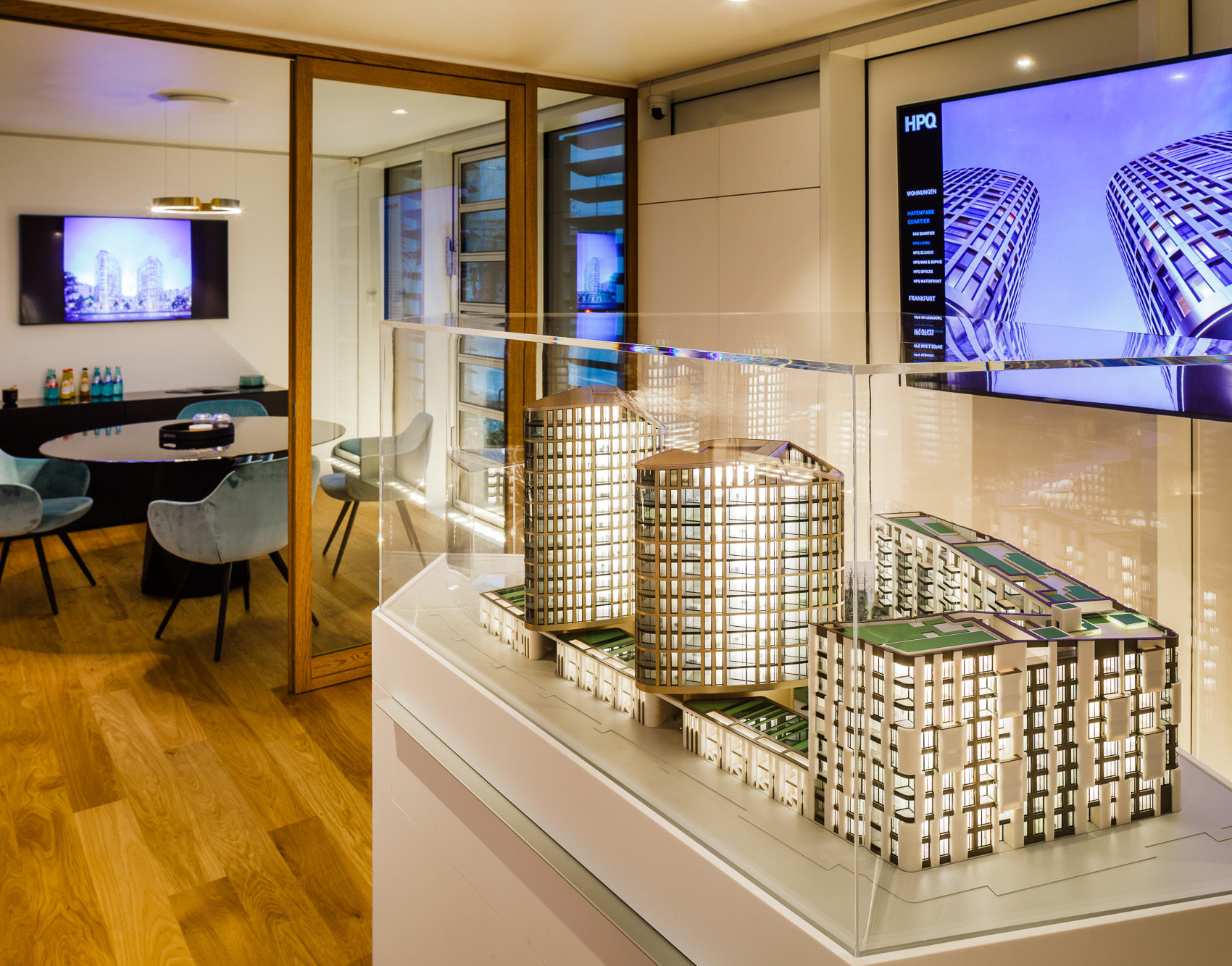 EYE-CATCHING
GENEROUS
QUICK & MOVABLE
Wherever the LoftCube touches down, it has a magnetic visual appeal drawings attention from the public, press and new potential clients. A marketing tool in itself. Your clients will fall for the bespoke design and comforting atmosphere – the perfect environment for converting purchase interest into tangible sales.
The open design concept using fine art materials leaves nothing to be desired. Vendors and buyers, both enjoy the generous space – an exclusive and professional sales environment.
The low impact on the environment adds to its credentials, making LoftCube a green design champion. Prefabrication and installation time of only 12 weeks including the option to dismantle or move the LoftCube in one piece to the next construction site – a sales loft in your briefcase, moving with your projects around the world.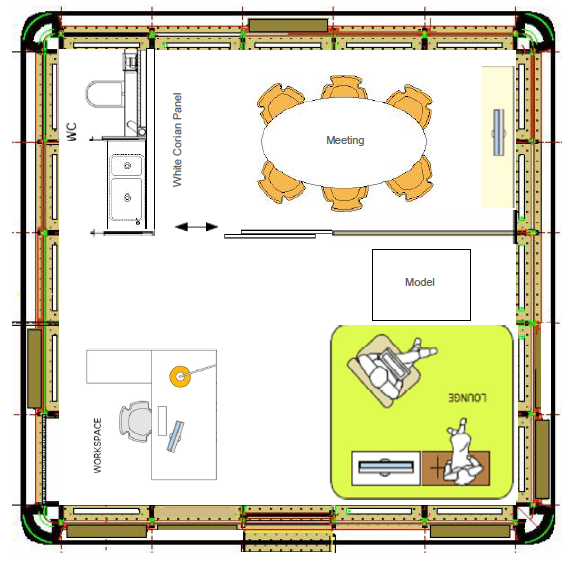 LC44 SALES OFFICE
FOR ICADE
How could a minimalistic but representative sales office look like and how long will it take from signing to opening?
This was the question we got by a telephone call in 2008 from the French based developer Icade Reim Deutschland GmbH.
Developed for a start-up company in Berlin realising a quickly available workspace for four people to start with.
Individual design with option to extend the first think tank with additional Cubes from the LoftCube product family via gangways.
Easy to enhance your space and reorganise your workspace due to the modular and standardised LoftCube "plug&play" panel-system.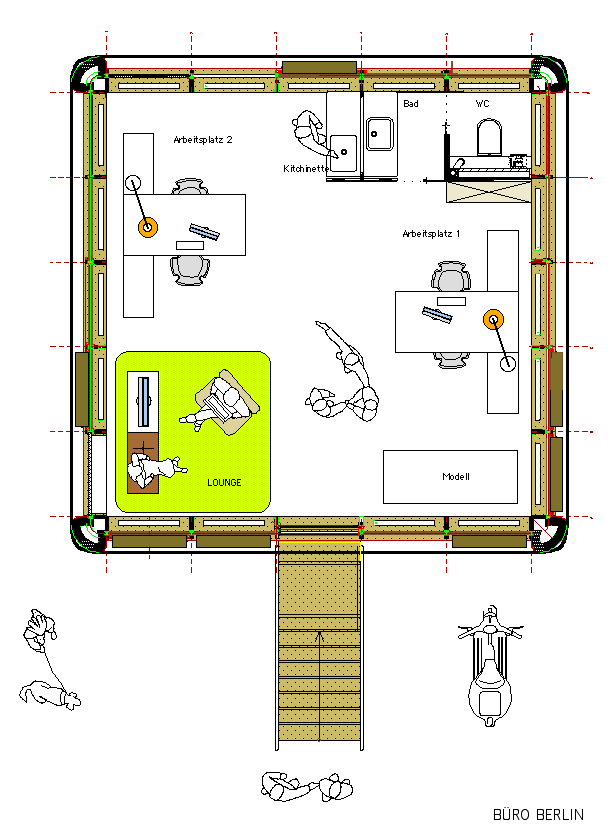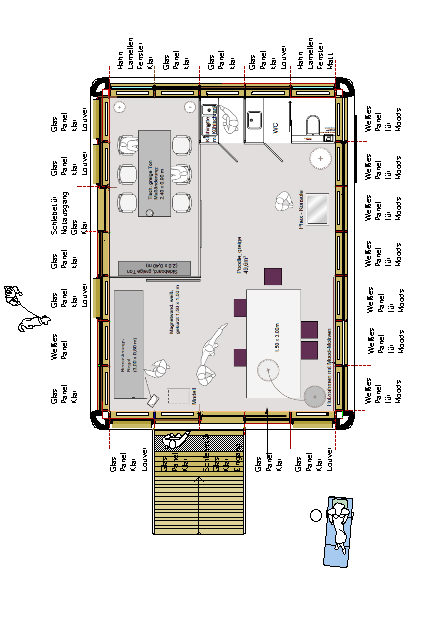 FROM TV-STUDIO TO SALES OFFICE
We need a sales office in Frankfurt City within 6 weeks – is that possible?
The German based developer Patrizia AG was seeking for a very quick and representative sales office.
The customer was lucky, we had a 60sqm TV-studio in stock.
Due to the reusability of our open and modular design philosophy we were able to change this Event Cube into a Sales Loft within 6 weeks by only producing our predesigned modules for meeting, kitchenette and restroom.
Munich based developer ISARIA AG ask to realise their new sales process.
The objective was to minimise interruptions during the negotiation of two different target groups at the same time and offer a generous space for board meetings for 8 with support of a large screen.
We designed two separate low noice meeting rooms with different designs based on target groups and added a sideboard with integrated and hidden kitchen elements. 
The main room of 34sqm was designed to host 8 board member.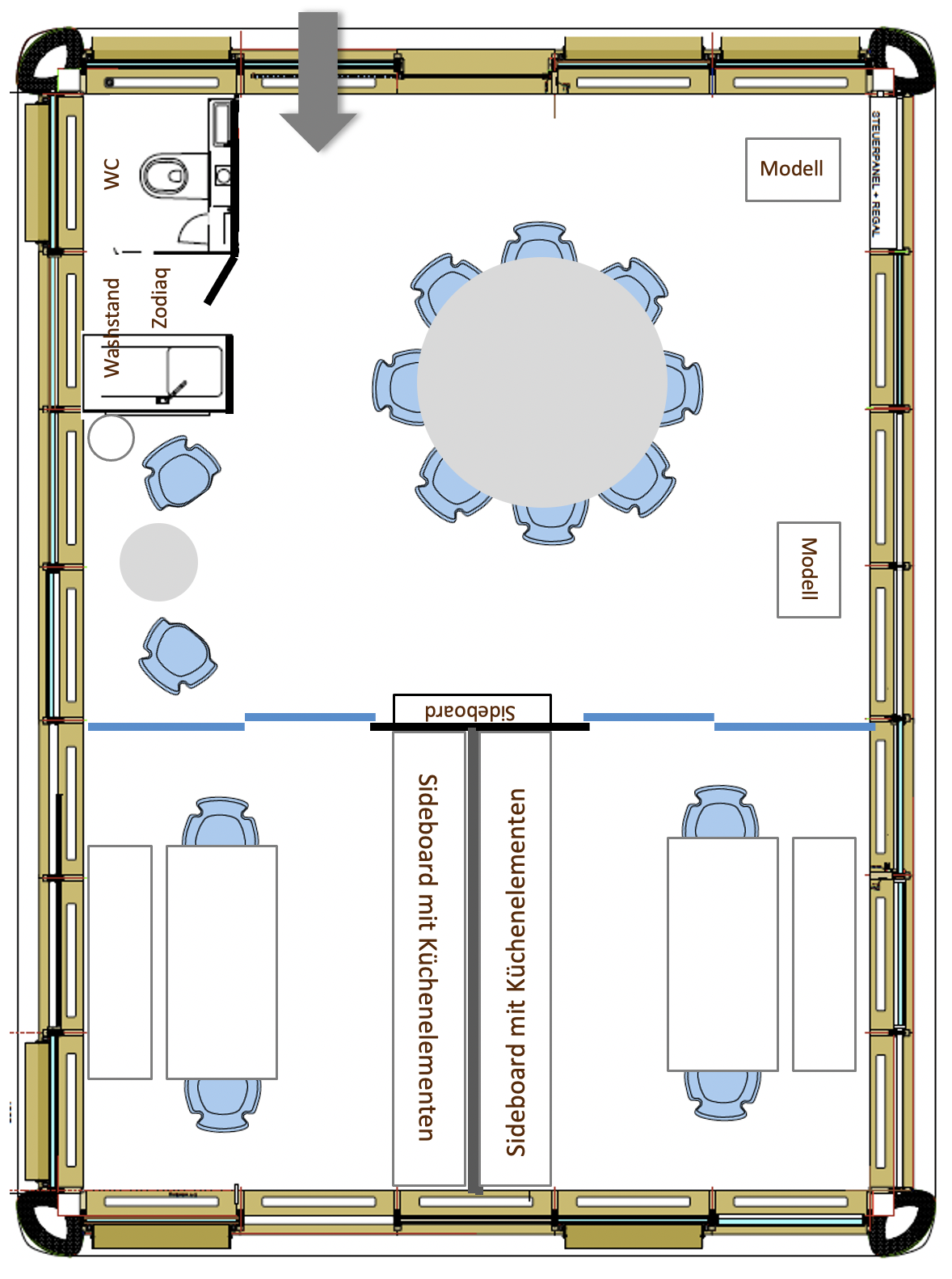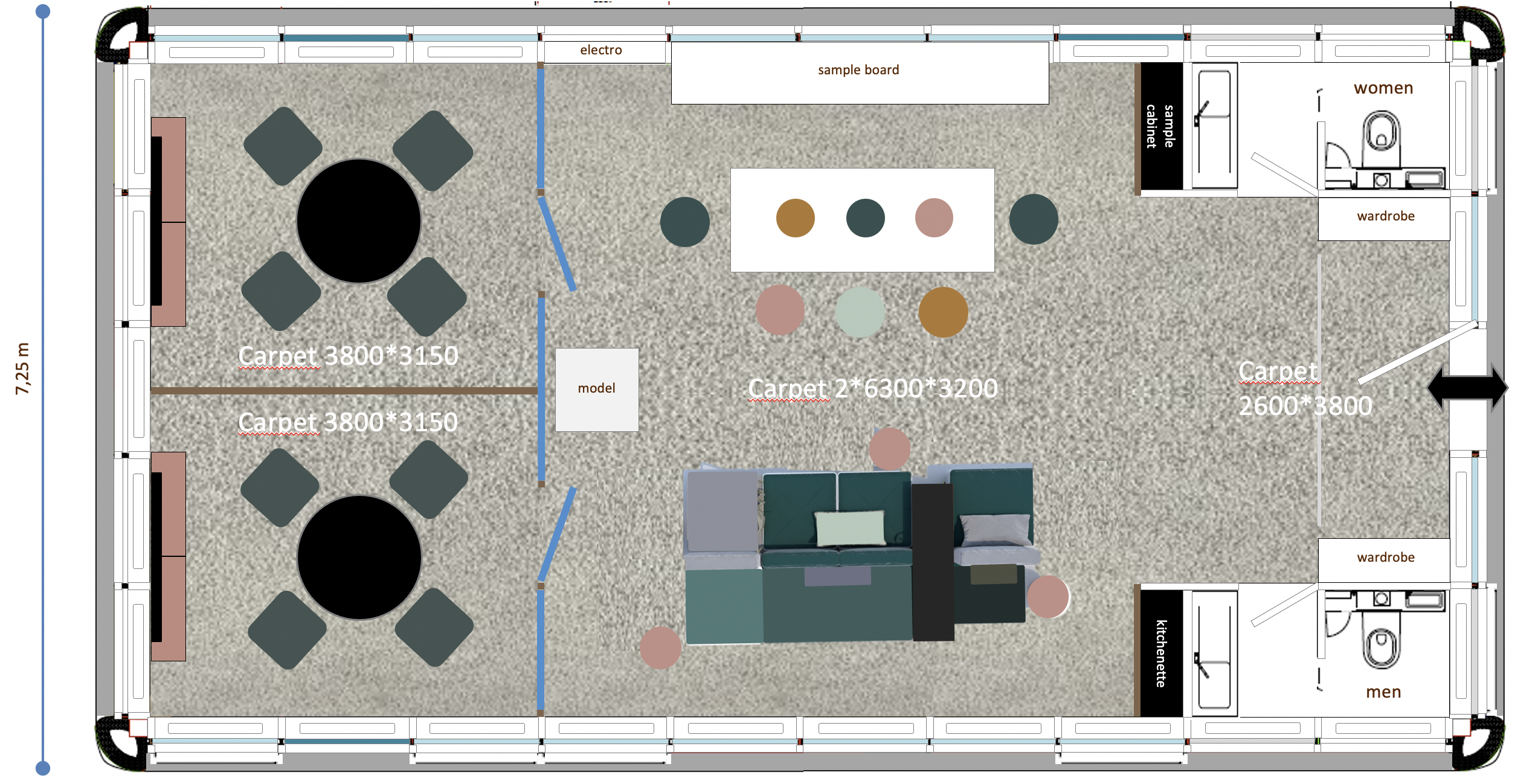 Luxury Sales Office Design with a centered lounge & presentation area.
Two separate meeting rooms with high noise reduction.
A hidden kitchenette and two separate bathrooms for women & men.
Representative sales office design with a centered model to view the site and all condominiums
Separate meeting room, area for samples & lounge area
Separate bathroom presented like the biggest bathroom in the flats